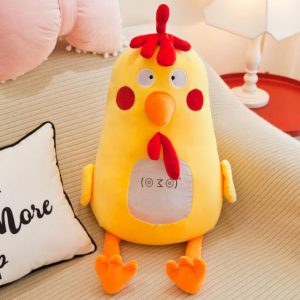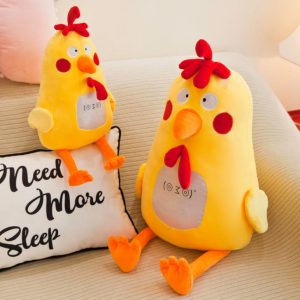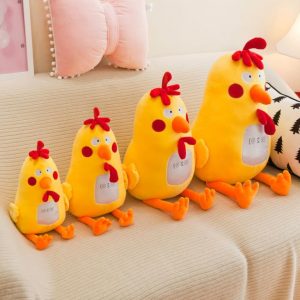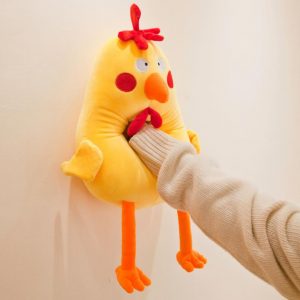 PRODUCT DETAILS
| | |
| --- | --- |
| NAME | Soft chicken plush toy |
| MATERIAL | Four-sided elastic fabric |
| FILLING | Down cotton |
| TYPE | All type |
| SIZE | 40cm, 50cm, 60cm, 70cm |
| COLOR | Yellow |
| BRAND | Kaida |
| USE | Promotional,gift |
| PLACE OF ORIGIN | China |
| MOQ | 100 PCS |
| OEM/ODM | Customized Logo/color/size |
| PACKING | Polybag ,carton or customized |
| SAMPLES | 7-10day |
| DELIVERY TIME | 25-45 DAYS |
| PAYMENT TERMS | T/T(30% deposit,70% balance before shippment),or copy of BL |
| SHIPMENT PORT | Ningbo/shanghai |
| FEATURE | High-grade four-sided elastic fabric, filled with high-quality down cotton, baby-like touch, high elasticity, no deformation. Electric embroidered expression, cute and cute. |
1. Poor cold resistance. The chicks in the first out of the shell have a body temperature lower than that of the adult chicken by 3 °C. It takes 10 days to reach the normal body temperature. In addition, the chick's fluff is short and thin, and it cannot be kept cold. Therefore, the adaptability to the environment is not strong. It must rely on artificial heat preservation to allow the chicks to grow normally. development. Chicks from 1 to 30 days should be kept warm and kept in a clean and hygienic environment. For chickens older than 30 days, the feathers are basically long and long, and there is no need to keep warm.
2. High body temperature, rapid development. Generally, the body temperature of chickens is between 40.8 and 41.5 °C, so it must be kept in a cool, well-ventilated environment in winter and summer. In addition, the chickens have short digestive tracts, strong metabolism, and fast growth, so they should be fed with adequate nutrition and easy digestion. The feed can meet their needs.
3. Resistance is weak. Especially chicks are very susceptible to harmful microbes. Therefore, in addition to doing a good job of environmental sanitation, we must also do preventive work. For example, the chicken house is strictly forbidden to enter and exit, the environment, and cages should be disinfected, and all kinds of chickens should be regularly injected with various vaccinations.
4. Easy to shock group. Chickens are timid, especially chicks are prone to panic, light crowds, growth, and development are blocked, and heavy ones trample on each other to cause disability and death. Therefore, raise chickens in a quiet place. Rough management, sudden noise, intrusion by dogs and cats, and catching can all lead to chicken riots and growth.
5. Afraid of moisture. Chickens should be grown in a dry and ventilated environment. If the environment is humid, some pathogens and molds are prone to growth. If the house is wet, the chicken manure will ferment to produce toxic gases, making the chicken susceptible to illness.