There are many types of stuffed animals sold on the market today. It is also reported that some plush toys are harmful to children due to quality problems. Therefore, for the health of children, it is very necessary for parents to check the quality of the purchased stuffed animals. Those good quality toys are suitable for children to play.
Stuffed animal fabrics are divided into pure wool and chemical fiber. Pure wool fabrics are expensive and easy to be wormed, so they are rarely used. There is a simpler way to distinguish between pure wool and chemical fiber fabrics: remove a few fibers from the stuffed animal and observe the burning result with a fire. If the black carbon is left behind, use a finger to pinch the powder. It is a pure wool fabric; if it is burned to leave a brown paste, it will be chemical fiber if it is pinched with a finger.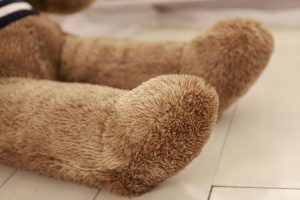 When inspecting the quality of the fabric, the toy should be held in the hand, and forcefully follow the direction of the natural covering of the plush. The plush should not be depilated, no bottom, no insects, no mildew, no color difference, and softened after combing. It should be restored to its original state. If the plush is combed and then combed but it does not return to the original, it looks like chaotic stripes, indicating that the quality of the fabric used in the toy is not good enough.
Generally, the sewing process is adopted at the joint between the head and the body of the toy and the joint between the limbs and the body and should be carefully checked. The general standard is that the line feet are even, no off-line, and no exposed ends. In order to identify the sewing fastness, you can hold any sewing part of the toy by hand, and pull it up and down 3 times. There should be no breakage or cracking.
What is extremely important is the stuffing of the stuffed animals. The good stuffing cotton feels like a down jacket. It feels soft and even. It doesn't have any foreign body and a hard object. If both hands are pressed at any part of the toy, Basically, the two hands together will not have a foreign body sensation, and the poor touch will be piece by piece, and there will be a foreign body sensation when touched by hand.