What is a stuffed animal?
A stuffed animal is a kind of toy. It is a toy made of plush fabric and other textile materials and filled with various fillers. The English name is (stuffed animal), which can also be called the soft toy. (soft toy), stuffed toy China's Guangdong and Hong Kong and Macao regions have become "plush dolls." At present, we are habitually referred to the stuffed animal industry(stuffed animal manufacturer) as a stuffed animal.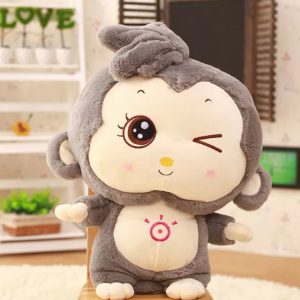 Stuffed animal features
The stuffed animal has the characteristics of vivid and lovely shape, soft touch, not afraid of extrusion, convenient cleaning, strong decoration, high safety, and wide application. Therefore, plush toys are a good choice for children's toys, decorative houses, and gifts as gifts.
The stuffed animal production process
Looks like a simple product, there are several major processes:
1, Process: tailoring – sewing – assembly – filling – integer – packaging
2, Materials: plush, chemical fiber fleece (drawing, velvet) acrylic cotton, both plastic particles, artificial leather, non-woven fabrics, toy parts, accessories
3, The consumption situation: medium toys about 18CM-25CM, the consumption of stuffed toys is more complicated, the consumption depends mainly on the number of toys, each variety of several raw materials, each proportion, the size of the toy, raw materials Whether the width is fully utilized, whether the blanking is mechanized, etc.
4, Reasonable design, typesetting, an organization of production, and the utilization of modern equipment are the main factors for reducing costs.