Many children are very fond of stuffed animals. They can get a headache after playing dirty. They can't bear to throw the trash can, so they have to stay on the side of their heads. In fact, as long as you find a way to clean it, it is still as lovable.
There are two ways to clean a plush toy:
1.Dry cleaning.
2. Washed.
How to dry a stuffed animal: buy a large packet of salt, coarse salt, put the coarse salt and the dirty stuffed animal into a larger plastic bag, then tighten the bag tightly and shake it vigorously. You will definitely the stuffed animal was found to be clean. The removed coarse salt turned grayish black due to the adsorption of dirt. The principle is to use the salt, that is, sodium chloride to absorb the dirt. Soda powder can also be used instead of coarse salt, and the usage is the same. This method is more suitable for large stuffed animals and stuffed animals manufacturer that can not be washed.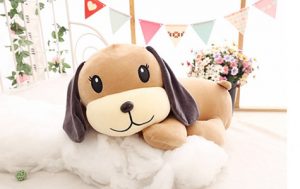 How to wash the stuffed animals: Small toys can be taped with the parts that are afraid of wear, directly put into the washing machine, softly washed, dried, hanged in the shade to dry, and intermittently tap the toy to make it fur The filling is fluffy and soft.
Large toys can be found to fill the seams, cut the seams, take out the filler (acrylic cotton), special parts cannot be taken (better to maintain the appearance), use tape to stain the parts that are afraid of wear, put the toy skin Wash into the washing machine, dry, hang in the shade and dry, and tap the toy intermittently to make the fur and stuffing fluffy and soft. The filling is then placed in the toy skin, neat and stitched. Then use a comb to gently comb the hair along the direction of the plush.
Although the washing cannot make the plush toy completely change its appearance, it is much better after washing. In general, the quality of the plush and filler of the branded toys is good, and the shape recovered after cleaning is also good. Inferior plush is easy to change after cleaning. Everyone should pay attention to the selection of healthy and quality products when purchasing.