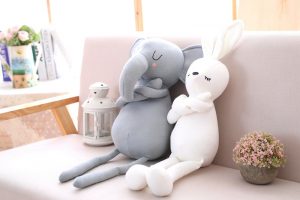 Summer is a hot and rainy season. After a few days of heavy rain, a trace of sunshine has not been seen. The air is full of moist taste, moisture all the way to attack, attack, no clothes, no quilt survive, even the plush toys placed in the closet cannot be spared, not to mention the plush toys exposed outside. Even if a dehumidifying agent is placed in the closet, it can't solve the problem that the plush toy is invaded by moisture.
However, the sun always rains after a long period of time, and at the moment when the sun appears, it all dissipates. Bathing in the warm sunshine after the rainy days makes people feel happier, and the rainy days are suppressed and scattered. Sitting on a balcony or garden, holding a cup of toon and squinting, how comfortable it is. However, don't forget to lick your plush toy and bask in the sun.
In the wet weather of rainy days, the plush toys absorb a lot of moisture, which will breed various harmful substances such as mold, bacteria, and mites, which seriously affect people's health, especially the children with weak resistance. They are mites and bacteria. The easiest object to get.
Taking the sun out, let your plush toys come out to dry, damp and dust, but it should be noted that you can't illuminate the plush toys through the glass, so it doesn't work, the ultraviolet rays are blocked by the glass; the plush toys Can not be exposed to the sun, this will make the plush toy fade; during the sun exposure, you need to intermittently pat the plush toy, which can make the plush toy more fluffy, and can be dusted; consider a black bag The plush toy is placed under the sun, because the bag air does not circulate, and the temperature rises, which is more conducive to sterilization and mites.
After the sunbathing, the plush toy will smell, but the smell is not harmful, it is the taste of the sun. Holding a plush toy in the evening, smelling this smell and falling asleep, it is extraordinarily sweet.